Our impacts
—An online presence that embraced the playful had-to-be-there energy of the network
—Multiple rounds of outcomes-focused prototypes in community-driven branding
—Three "positive and possible" scenarios for the network that have come to fruition 4+ years later
—Two successive long-term grants to continue developing a cooperative business model beyond the philanthropic sector
What we created together
"Adventures in Nest Building (Or, How to support place-based youth-organizing)" (co-author) — An influential learning document for funders about YSI's radically inclusive model for 'scaling' community development.
By connecting first-person change stories to the "minimum specifications" for our model, this document gave YSI the credibility they needed to build new partnerships (including with funders) to expand their efforts across Ontario. Almost 3 years later, this growth and development is still flourishing.
How we got there was a pretty good story…
Meet Jon Cada, one of YSI's many long-term volunteers who I tapped to help tell YSI's story.
Jon's story was illustrative of many in the YSI network. He is a community economic developer and journalist from Mississauga First Nation who joined YSI while looking for supportive projects and connections to do good work for his community. He held a vision for reimagining the nature of 21st-century organizations based on principles from Anishinaabe governance and emerging complexity science.
Key insight: Talking to people like Jon, I learned about the unique strategies that YSI had employed to fuel itself for 5+ years as a volunteer-driven, distributed network with minimal funding. As the new Communications Lead (and self-appointed design research specialist), my role was to identify and share these insights within and outside the network.
Much to my exasperation, YSI's members were passionately disinterested in my efforts to find a single "language" for their distributed work.
As YSI's new Comms and Evalation Lead, 'users' like Jon helped me get a handle on what the network did—but I had a lot of loosening up to do.
I approached my role as both a self-appointed professional design researcher and community organizer. But as a non-Indigenous settler, I sometimes had a hard time understanding what Jon and others in the network were telling me about their vision, mission and realization of their work. They spoke in language that was impervious to my desire for neat summaries -- using the language of "Spirit," human connection and holistic "ways of being."
Key insight: A part of me intuitively "got" what they were talking about once I experienced it myself. At the same time, another part had begun to understand a truth that many YSI'ers had laughed about -- the ineffable, or the experience of not knowing, is a necessary, recurring, and sometimes painfully long passage-way towards group understanding.
I couldn't sit still in the ineffable for long. I bought three UX textbooks and an online course in my first month.
With resources like Lean UX and Ideo.org's Design Kit as a guide, I began feverishly developing five 'lean' user personas. I also ran a dozen user interviews to iterate priority needs while clarifying menu hierarchies and user stories. In hindsight, my personas were laughably thin simplifications of real people's lives like Jon. Still, they did serve the purpose of helping me to keep the many stories straight as I set about designing a new website from scratch.
Community 'brands' emerge at the mushy middle of top-down and bottom-up strategies.
During one of our programming sessions, which spilled over into the kitchen, someone helped me realize: YSI would never be a conventional organization with a fixed brand.
Key insight: YSI's spirit-driven fluidity was its strength, not its weakness. And people needed to experience our programs for themselves to really "get it." An online experience peppered with a multicity of videos, photos and touch-points could pique the interest of our diverse but ultimately idealistic audience of twenty-something community leaders like Jon (and, I now realized, me!). I began to strike up one-on-one conversations on- and offline that would drive interest and registrations for our in-person gatherings.
Successive experiments in user engagement helped quickly identify what worked, even if data use was fast and loose.
Effable or not, I accepted that I needed to get out of my own head about YSI's identity and into the network. I went about creating outcomes-focused work plans that would track 'lean' experiments into YSI's online engagement. Among many others, I analyzed social media use, and prioritized social media activity around promising practices from other community-based organizations like Toronto's Centre for Social Innovation.
In one Facebook experiment (highlighted with Jon's photo above), a dozen or so community members to manage our Facebook page on a rotating basis. This was a radical decentralization of our messaging.
Key insight: Grassroots initiatives like YSI were miles away from my past work with large nonprofits and multiple levels of government. People didn't stay inside my neat boxes. They also didn't have the resources to support any meaningful operationalization of proxy indicators for the systemic changes they were planning for. And yet, the gatherings I attended somehow seemed to provide them with a relentless source of energy. (I, rather skeptically, needed to draw on my intuition for increasing guidance.)
Even without time for solid data, user-led engagement was growing.
Sure enough, as my work continued, I found that Jon and others were increasingly developing their own media and stories for their own local audiences of peers and allies. In one example, a working group of facilitators created their own tumblr page to keep track of their design and evaluation learnings.
Key insight: By hanging over the keys to the brand, things were not as polished as my own aspirations. This was kind of the point. Communications became synonymous with culture, which was vital to realizing our strategy.
A remote card-sorting exercise identified the "minimum specifications" for our program model.
Meanwhile, the funders hadn't forgotten about our program commitments, and neither did we. After over a year of experimentation, it was time to develop a clear 'model' for youth leadership development. Based on now-regular peer interviews to learn about program outcomes, I led a group in an online card-sorting exercise to identify the "minimum specifications" for "building resilient communities of support for young community organizers."
Key insight: We were excited by our work to date, but a rather large blind spot loomed. We had no idea what would sustain our work after our funding ran out in one year. The spectre of changemaker burnout as well as conflict between staff in Toronto and young people in the North also threatened to derail us.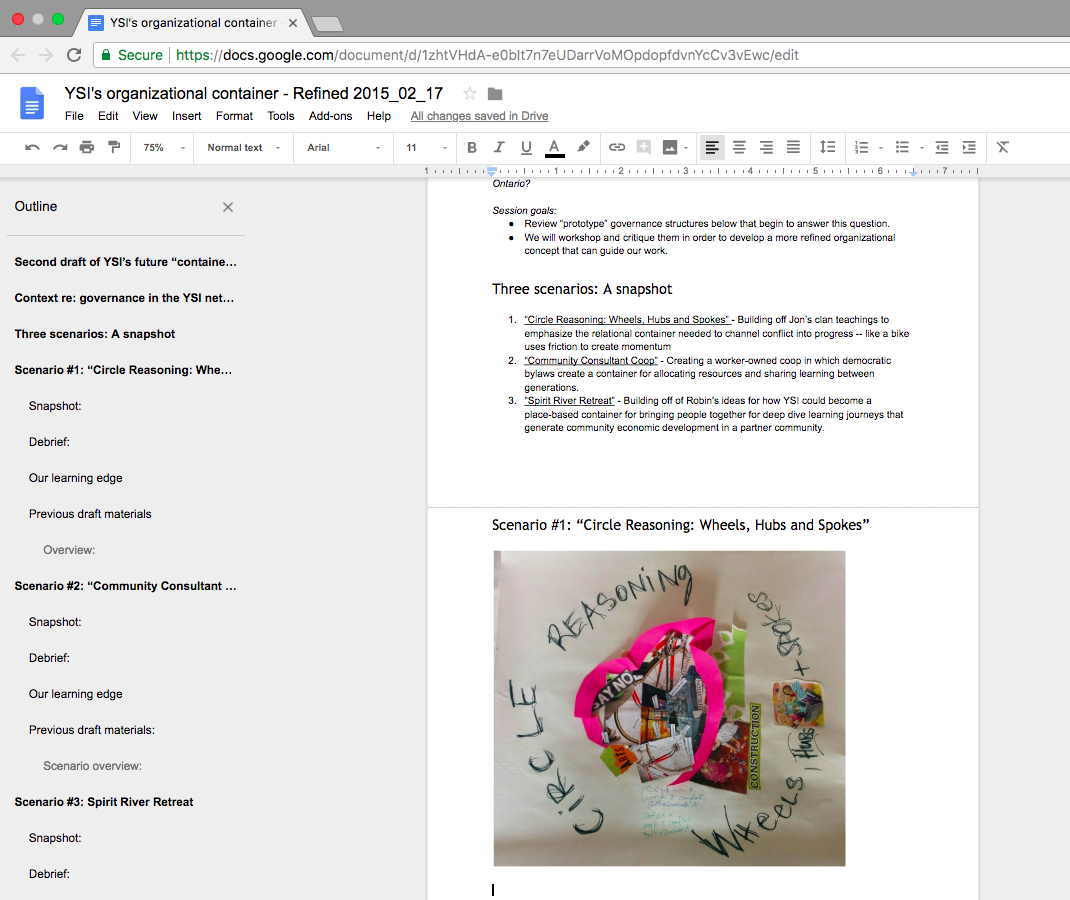 Persistent existential questions demanded a playful engagement with evidence and hands-on prototyping.
I drafted user scenarios representing three imagined futures that I gleaned from conversations in the kitchen. I then facilitated an collage-based prototyping workshop in which teams would physically tear our scenarios apart and put them back together in new ways.
Key insight: Creative destruction and getting out of the rational-verbal brain can help to open up all new avenues for transformative action.
But funding was running low, and the time for experimentation was ending.
The final year of our funding meant that it was time to focus on meeting our existing deliverables, applying for new funding, and documenting as much of our learning as possible. We used our "min specs" as a starting point for authoring a "learning document" that would make sure that our radical vision for youth leadership development could live on through our existing relationships with passionate grant managers.
When new funding came through, a new round of experimentation could begin—with fresh blood.
With my contract ending, it was time to move on. Other volunteers like Jermaine capably stepped into staff roles. Suddenly, Jon's passion for traditional governance structures -- that had formed the basis of one future-dreaming scenario -- became the focal point for further prototyping and experimentation.
Key insight: Design relationship-driven brands that focus on and embody long-term relationships. Communities know best how to tell their own stories to their communities. Follow their energy, and when necessary, get out of the way.
The Youth Social Infrastructure Collaborative is more youthful than ever as we continue to learn from land-based cultural teachings.
The recent "Young Leaders Circle" or YLC has now become the new braintrust for an emerging business model in consulting services for youth engagement and equity. I continue to provide pro-bono support to this effort to adapt holistic practices from traditional Anishinaabe governance to the realities of managing a 21st-century cooperative agency.